Welcome to Grand Island Vineyards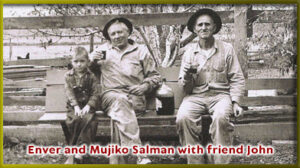 The Salman family has been growing wine grapes for over 45 years, and after a decade of planning and collaboration, opened the doors to its winery facility for tastings, weddings, events and wine sales.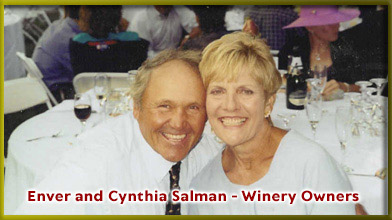 Located directly off the levee road of State Highway 160, the Salman family has developed over 450 acres of vineyards with more than a dozen varieties planted including Chardonnay, Chenin Blanc, Fiano, Gewurztraminer, Pinot Gris, Sauvignon Blanc and Symphony, Cabernet Franc, Cabernet Sauvignon, Petite Sirah and Petit Verdot. Among the vast acreage of wine grapes, there are also two pear orchards, adding to the beautiful landscape that is Grand Island Vineyards.
Beginning in the 1920's, Mujiko Salman immigrated from what is now Croatia, and began growing tomatoes and asparagus along the fertile river Delta. Enver Salman, Mujiko's son, first planted wine grapes in 1969, including French Colombard and Petite Sirah and remains an integral part of daily operations while wife Cynthia oversees administration of the Winery and Salman Farms.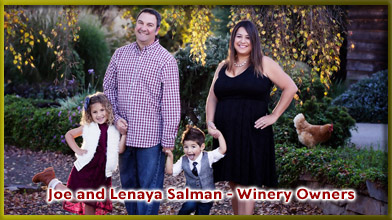 Joe Salman, the youngest son of three children who grew up on the ranch came home to join the effort after graduating from California Polytechnic State University in San Luis Obispo with a degree in BioResource and Agricultural Engineering and has managed the development of the winery and also manages winery operations.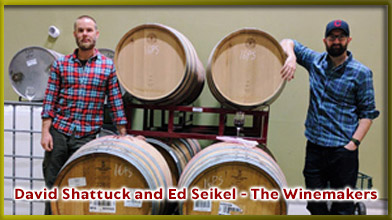 Before envisioning a family winery, the Salman's had great success with wine buyers such as E. & J. Gallo and Simi Winery in Sonoma County, Pine Ridge Vineyards and Beaulieau Vineyard in Napa Valley, Jeff Runquist Wines in Amador County, and nearby Lodi and Clarksburg wineries including Bogle Vineyards. Runquist produces a Salman Vineyard designated Petite Sirah that regularly wins top awards in wine competitions.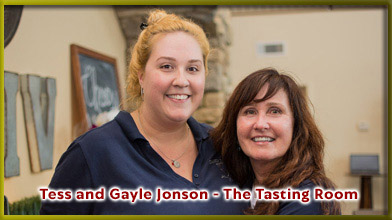 In 2007, the Salman family developed their first commercial wine, a red blend called Sutter Island Red, which was produced at nearby Scribner Bend Winery. In 2012, they began producing varietal wines at Estate Crush, a custom-crush facility in Lodi, CA and sees production of roughly 1,000 cases a year. Initially, all wines are being released under the Bridgehead brand, which is named for the nearby historic Steamboat Slough Bridge that was built in 1924 and is visible from the tasting room entrance and grounds.
The Salman's have been active members of the Clarksburg Growers & Vintners Association, serving on its board of directors while promoting area efforts benefiting the community and all growers. Grand Island Vineyards will be included on the Clarksburg Wine Country visitor map and in promotions, as well as joining the Sacramento River Delta Grown, to be part of its Delta Farm and Winery Trail Guide.
Meet the Grand Island Team!
MEET JOE AND LENAYA SALMAN
Owners/Operations Manager/Events Manager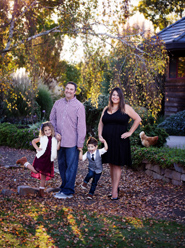 Joe Salman is in charge of running Grand Island Vineyards and Salman Farms on a day to day basis.
Graduating from the University of California, San Luis Obispo with a degree in Agricultural Engineering, Joe has grown up on the Delta experiencing Vineyards and Wine Making his whole life and is proud to share the rewards of their labors by creating wines that showcase the GIV distinctive grapes perfectly.
Lenaya Salman is in charge of all the wonderful, exciting events at Grand Island Vineyards, including Live Music, Classic Car Shows, the Vineyard Harvest Dinner and Paint and Pinot events, as well as all Tours and Tastings.
Together, they set a solid foundation to enjoy truly distinctive wines that are consistent with the 45 years of preparation by parents Enver and Cynthia Salman.




---
MEET MELANIE "MEL" JONSON
GIV Wine Tasting Ambassador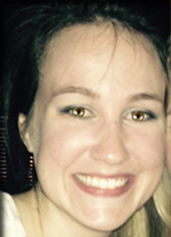 Grand Island Vineyards has been lucky to have Mel on the GIV team since the end of 2016. Mel lives in Courtland and graduated Delta High School before attending Cosumnes River College as an art major, which is awesome, because Mel does all the wonderful chalkboard art featured at the Winery. Combining this with the fact that her family grows grapes as well, it's no wonder her highly qualified opinion results in telling guests and the public that the GIV wine is absolutely delicious! Mel knows the Courtland area well, having worked at Giusti's in the Delta and training many area dogs. She also worked at Northstar as a lift operator in her spare time. Mel chose GIV for a few interesting reasons, including the Wine Club Manager is her sister, Gayle is her mother, the Salman family has known her since kindergarten AND she went to school with Courtney. Her favorite GIV wine is the New Winemakers Blend with the Rosé as a close second; her favorite non-GIV wine is the Runquist Petite Sirah which pleasantly is made with Salman Grapes!
Mel enjoys taking a bottle and going out to dinner with friends, and loves Grand Island because the people are all friendly and likable, the staff are personable and easy to get along with in a great environment to learn new things every day.
---
MEET ED SEIKEL
Grand Island Winemaker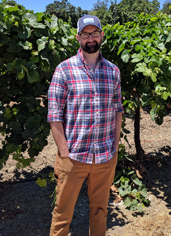 Ed was born in Akron, Ohio and attended Harvey S. Firestone High School and currently lives in Sacramento, over in Curtis Park with his lovely wife Katie. Besides being one of GIV's fabulous Winemakers, Ed also does Vine to Bottle Technical Consulting for other wineries. Having graduated from Bowling Green with a Double Major in Chemistry and Biology, Ed also attended UC Davis Graduate School with a ph-d in Biochemistry and Molecular Biology! This Brainiac, along with partner in crime David Shattuck who we will profile in future editions, is a large reason why we are so very pleased with the quality of our fabulous wines. And crops. And pretty much everything else.
Before being an extraordinary winemaker, Ed worked as a Lab Manager for the Clarksburg Wine Company where he came to love Grand Island Vineyards while working with GIV/Salman fruits. Ed often likes to say it was the quality of the fruit which caught his attention, thanks to both Joe and Enver Salman's tireless efforts. His personal favorite GIV wine, which is saying a lot, is the Sauvignon Blanc and his favorite non-GIV wines are the 2010 CWC Cab Reserve from the Salman Home Ranch and Evil Twin Heretic Beer. In typical friends and family style, Ed likes to enjoy his wine (and beer) during a BBQ with family and friends. Destined for greatness, Ed was born at the same hospital as Lebron James and Stephen Curry and used to race jet skis in his spare time.
---
MEET DAVID SHATTUCK
GIV Winemaker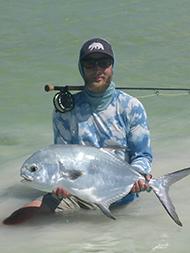 Meet the other fabulous Grand Island Winemaker David Shattuck! David has been working with partner Ed Seikel since January 2017 in creating new and wonderful Grand Island and BRIDGEHEAD wines. David lives in Davis with wife Jamie and Bret their Shetland Sheep dog since 2003, where he graduated (from Davis) with a degree in Bio Chemistry. Before this, David lived in Livermore and Denver, Colorado.
Previous past work includes working at Lawrence Livermore Labs with many of our customers, at Lockheed Martin in Sunnyvale working on military lasers and then winemaker in Clarksburg. David met partner winemaker Ed in 2004 at Davis, during a recruitment weekend at Davis.
His favorite wine from Grand Island Vineyards is the newest Cab Franc (2016) and his favorite non-Grand Island wine is the Domaine Joel Delaunay Loire Sauvignon Blanc. David enjoys his wine in the process of making and eating dinner and while fishing, as he is an AVID salt water fly fisherman. David came to love Grand Island Vineyards through working with the grapes and the wine as far back as 2010 and really loved the vineyards. Stop by and meet David if you get the chance, you'll be glad you did!



---
MEET SHERRY STANLEY
Special Events Coordinator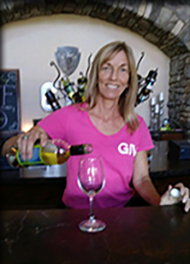 Sherry Stanley is well known around our area and has been doing wonderful things for our community for many years including being the Special Events Coordinator for the Grand Island Mansion as well as the Ryde Hotel. She joined the Grand Island Vineyards family in January 2016 and wanted to work here before it was even built, having fallen in love with the people and the wine! Living on the wonderful California Delta (Grand Island), we see a lot of Sherry and enjoy every minute of it. Best friends with fellow employee Connie de Mars, Sherry also had Cynthia Salman as her children's school secretary! Small world sometimes.
It's no surprise Sherry has a degree in Advertising and Public Relations, having attended both Alameda City College and Cosumnes River College along the way. With a keen eye for art, Sherry is also in charge of Art Sales and Consulting for Marty and Skyler Stanley, who are very popular in our area and produce(d) very beautiful works of Art. We commonly have several pieces showcased at Grand Island, as well as in many of our homes! Sherry previously LOVED the Sutter Island Red, but prefers to match her favorite GIV wine with what's for dinner and what her surroundings inspire. She is also a big fan of the Jeff Runquist Petite Sirah, which is grown with Salman grapes, so bless her for that as well.
Before joining our family, Sherry worked as a Delta Cropdusting Flagger as well as a Southwest Flight Attendant for two years. She has been through both a fire and a flood along the way, lived in the Grand Island Mansion and even met Clint Eastwood in Locke, CA where he definitely " Made My Day," according to Sherry.
---
MEET CONNIE DE MARS
GIV Wine Ambassador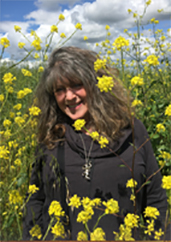 Connie has been a member of the beloved GIV wine family member since May of 2016, and currently lives in Courtland working as a Home Chef. She has attended multiple colleges including MTI and Sac City, before working for Blue Diamond Almond for 25 years and also a building design center for 5 years. Being friends with Tess and Sherry before starting at GIV, she really came to love the Vineyards while driving by during construction and seeing the grounds flourish. After several passes, Connie decided she was going to try to get a job here, and WALLAH!
Her taste in wine is impeccable; her favorite GIV wine is the New Winemakers Blend and her favorite non-GIV wine is Twisted Rivers Raven. She likes to enjoy GIV wines when cooking, both internally and in the food which comes in handy because Connie really loves people and working at GIV affords her the opportunity to meet nice people every day. Stop by and introduce yourself, make a new friend and enjoy wonderful wines in a beautiful setting.




---
MEET COUSIN BRIAN SUTHERLAND
Grand Island Vineyards Marketing and Public Relations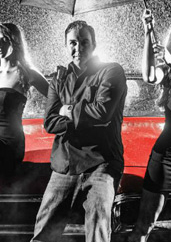 Brian has been operating professionally on a 20+ year international basis, developing coordinated electronic marketing and publicity campaigns for a variety of clients, including Van Gogh Vodka, PETA, William Hill Gaming Company, Cardiology Agencies, Hospitals, Fox Radio, several Universities, a well-known pharmaceutical company, Northern Nevada/California Law Enforcement and most notably, the State of the World Forum, a community outreach program in conjunction with SOWF President Jim Garrison, Al Gore, Jane Goodall and Mikhail Gorbachev.
Brian is a graduate of the University of Nevada, Reno with a B.A. in Journalism/Public Relations and holds specialty certifications in Digital Marketing from Marquette University and Sports Industry Management from Columbia University. Currently he is Director of Marketing and Public Relations for Sierra Nevada Bioscience, working directly under company CEO Dr. Michael Nelson D.C., pioneer in the emerging Smart Drug industry.
Most recently, Brian was the Executive Producer of the multiple, award-winning film Nowhere Nevada and its soundtrack which received a five-year international distribution deal in late 2015. Brian previously ran his own electronic marketing/PR agency more commonly known as Virtual Reality Public Relations or Sutherland PR, working with such clients as the Washoe County Sheriff's Office, South Lake Tahoe PD, the Regional Public Safety Training Center and Century 21 Corporate.
---
MEET JAN CHAIX
Wine Club Ambassador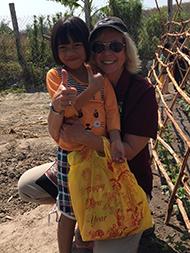 Jan has worked with us at Grand Island Vineyards now since March of 2016! Residing in Courtland, Jan is a fabulous wine ambassador as well as a Licensed Attorney! Jan received her BS in Political Sciences, having started at Cal Poly in 1973, then on to the University of Florence, Italy from 1975 – 1976. She then attended the Universidad Iberoamericana in Mexico City in 1997, and graduated from Cal State, LA in 1978. Finally, she then graduated from the University of San Francisco Law School in 1986, where she passed the bar exam on her first attempt!
Jan's favorite job was as a VISTA (Volunteer in Service to America) worker, the Domestic Peace Corp where she was involved in community service, mostly teaching for $300 a month and living light for just $10 a week with no electricity and running water! She was also a Big Sister for 5 years in Orange County and was even named Big Sister of the year in 1992.
We met Jan when she had just moved back from Istanbul and gave her a Winery tour before we had even opened! Her favorite wine is the Cab Franc from Grand Island Vineyards and she also enjoys Bogle Reverence, so you know she has great taste in fine wines. Having been acquaintances with Cynthia and Enver Salman for seemingly forever, it's no surprise Jan enjoys these wines straight out of the bottle or during one of the many Grand Island Vineyards events. Jan's passion is going to orphanages in Vietnam every year, to help the people and give back something to the community. Come down to the Winery and meet Jan, you will surely be glad you did!
---
MEET CAMEO KING
Wine Club Ambassador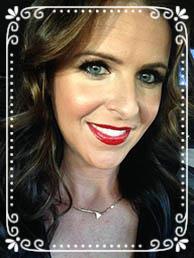 Meet Cameo King, one of our great staff and Wine Club member since early this summer. Cameo resides in Courtland, CA and has a great connection with everyone at Grand Island Vineyrads and the wonderful customers she has great conversations with. Cameo has an Associates in Art and is pursuing her Bachelor's in Interior Design!
Cameo came to love Grand Island Vineyards one Sunday when she was driving with her boyfriend JJ and they stopped by to taste some wine. Having loved both the wine and the experience so much, she signed up with Connie and became members that very day. They really look forward to the After Dark Events because they can sit back and relax, take in the beautiful views and drink the fabulous Grand Island Vineyards wines. Her favorite wines are the Cab Franc, RED blend and the Pinot Noir. Her non-GIV favorite wine is the Coppola Claret Black Label.
Cameo and JJ enjoy these wines sipping on their boat dock at sunset. A fun fact about Cameo is she loves to go antique shopping and shoe shopping, but then again, who doesn't after a few glasses of wine 😉



---
MEET MARCIANO MOTILLA
Vineyard Worker Supervisor

Meet Marciano Motilla, our Vineyard Worker Supervisor at Grand Island Vineyards. Marciano is incredibly valuable to our operations! He is the only other person besides our Operations Manager who sees every field and block during the growing season. Without Marciano, our wine would not be nearly as amazing as it has become over the years.
Marciano has been a part of our family for some time now since joining us in 1990 as a seasonal harvester. In 1997 he joined our family year round and is currently both a Supervisor at GIV and a Harvester Driver for Salman Farms, the Sutter Island "Home Ranch." Funny story…… Marciano originally came to love Grand Island Vineyards during the five years his mother spent working at Salman Farms! Small world indeed.
Marciano was born in Manila, Philippines where he lived for 13 years before moving with his mother to Kaui, Hawaii. From there he went to Florida where he began working in Landscaping. This later took him to California where he worked in Golf Course Landscape Irrigation. After that, Marciano got into Electronics in Milpitas, CA and later worked for the San Jose School District doing Food Delivery. Finally he realized his true passion as he worked for Sebastiani Winery (Turner Road Winery) doing seasonal work. He was also employed by Unilab as a delivery driver! As you can tell, Marciano has always worked very hard, and his employment at Grand Island Vineyards has been no exception.
His favorite wine, just like many of us is the Grand Island Ros é, and he also really enjoys a variety of Bogle Red Wines. Typically he enjoys his wine after a long day's work and just before dinner. We joke he's most likely thinking back to his younger years on the beach in the Philippines, since it's been 17 years since he's been back! H e says it's always very hot and humid in the Philippines, and when you take a shower, you're already sweating again before you get out! Marciano really enjoys the delta breeze here at the Winery, which works out really nicely for all of us. Marciano is a very hard worker and a very nice man. If you ever get a chance to say hello, you will be glad you did.
All of us here at Grand Island Vineyards are proud to not only call Marciano an employee and a friend, but a true member of our family as well.
---
MEET GERADO ROMERO
Tractor Driver/Groundskeeper/Winery Cellar Worker
We just can't say enough about how valuable Gerado is for our efforts. Having worked here for over 6 years as a tractor driver, winery cellar worker and landscaper, Gerado even lives on-site at one of the many ranches we farm in Courtland. It even goes deeper as the Romero family is a huge part of the winery as his father Ismael has worked with us for around 25 years and his mother Sylvia works with us as well. Even his brothers join us during the summer! This really speaks to how close of a community we have here, everybody has known each other seemingly forever and we've known Gerado since he graduated from Delta High School. Before joining us at the winery, Gerado was employed at a packing shed where he made boxes and stacked to the rafters.
His favorite GIV wine is the Rosé and his favorite non-GIV wine is Modelo beer, both of which he commonly enjoys with his friends. Gerado is a second generation worker for Salman Farms as well and one thing we truly love about him, is he really, really enjoys his landscaping work. If you've ever been here then you know the extent of that project.
Stop by the winery and if you happen to see Gerado between his many duties, say hello and thank him for us as his work makes a huge difference to all of us.


---
MEET THE NEW ADDITIONS TO THE SALMAN SIX!
Future Pioneers in the Wine Industry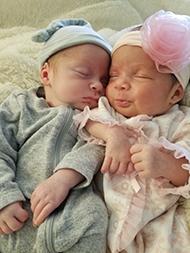 The Salman Family welcomes two new members to the family at Grand Island Vineyards! The Salman Six we like to call them now, includes newest twin members Sterling Melvin (4lbs, 15oz) and Gwyneth Lois (4 lbs, 4oz) Salman! These two adorable cuties will be at the Winery when they are ready for everyone to meet and welcome into the family. Joe and Lenaya will surely have their hands even more full, so hopefully Archer and Quora will lend a hand as everybody gets adjusted to the new additions. The middle names, Melvin and Lois, are Lenaya's parents names, a nice tribute to two wonderful people.
After an extensive home remodel and brief trip to the hospital, everyone is home, healthy and safe in Courtland. Lenaya is doing well and getting some rest and will soon be organizing and hosting more fabulous Grand Island events throughout the 2018 season.